Dogs And Cats Get Periodontal Disease, Too Why You Should Be Brushing Your Pets' Teeth Every Day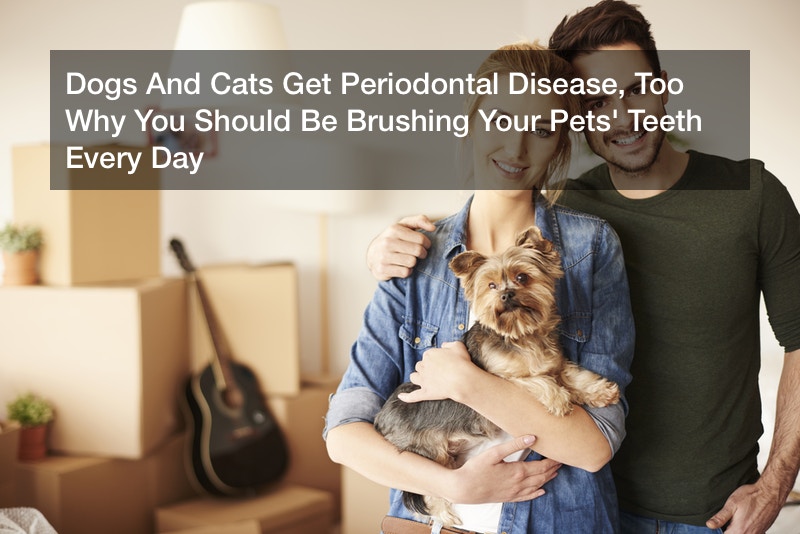 Your pet's health is important. Achieving everything your cat or dog needs to live a long and happy life means breaking things down into basics.
That means looking up the right dental care for pets, rather than attempting home solutions that may or may not work. That means getting a dog spayed or neutered as soon as possible so they don't create unwanted litters. You love your furry friend, but with them comes massive responsibility. If you're worried about falling behind on vaccinations — or just want to make sure your pet is on the up and up — consider reading the list below. There's a lot to get to, but it's best done in a series of steps.
Here are five ways to ensure your cats and dogs are always feeling their best.
Double-Check Your Dental Care Methods
Just like your own oral health care, your pets need to be checked on a daily basis. Dogs and cats can succumb to periodontal disease, which can erode their gum lining and cause them a lot of pain. By the time they're three years old 80% of dogs and nearly 70% of cats will have periodontal disease. It's possible to reach 90% of the surface of a dog's teeth through brushing alone, with flossing able to be skipped because of gaps in the teeth. Dental care for pets is a simple process that needs just a few minutes of your time.
Spay Or Neuter Your Animal As Soon As Possible
It's not just dental care for pets to keep an eye out for. A surprise litter isn't just inconvenient, but expensive and potentially dangerous in the long-term. The United States has a surplus of unwanted litters, affecting everything from public health to general resources. SpayUSA.org recommends you spay before a first litter, with cats and dogs as young as five months old able to get pregnant. The benefits of neutering your pet far outweigh the negatives, so take the initiative and save everyone the trouble.
Review What You're Feeding Your Pets
When's the last time you read the food label on your cat's wet food? Have you switched your dog's kibble lately? It's been found over 65% of all dog food allergies are caused by beef, dairy, and wheat, with much of this used in common dog food. Constant consumption of improper food can also affect your pets' gum and tooth health. While veterinarians regularly explain the importance of dental care for pets, a recent study found 65% of pet owners do not brush their pet's teeth.
Ask Your Veterinarians About Vaccinations
It never hurts to be careful. Vaccinations are necessary to keep both your pets and the rest of your family safe from many common diseases. Should you adopt your puppy from a friend, rather than a pet store or a shelter, it's likely they are behind on their vaccinations and need to be taken to a professional. Heartworm is the most basic, though there are several other up-to-date resources you can ask about. It's preventative measure that's just as important as reactive measures, at the end of the day.
Visit Your Local Clinic At Least Once Per Year
When in doubt? You can better figure out your dental care for pets and vaccinations with professional help. Spaying and neutering remain the only 100% effective form of birth control for both cats and dogs. A recent survey from the American Pet Products Association found 85% of pet dogs and 90% of pet cats were spayed or neutered between 2015 and 2016. That's still far too many that risk unwanted litters that drain public resources.
Take good care of your pet with preventative measures. Ask your vet about the best dental care for pets, feeding plans, and vaccinations.